Healthcare certification providers in the United States all focus on one major program: cardiopulmonary resuscitation. The CPR programs at American providers are available all throughout the week, sometimes even during the evenings and weekends if the regular schedule cannot accommodate all of the students who sign up for programs. CPR credentials are easily achieved once the program is completed and the post-test exams are finished.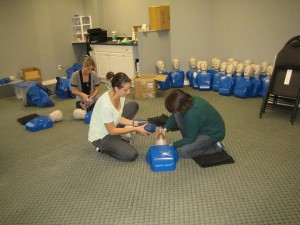 Certificates/Credentials
Certificates are awarded immediately to student once they pass the program post-test, which can either be a skills test or a written exam, or both. After two years, credentials at American providers expire, so students are required to take a renewal program before they do to keep them valid. These certificates are recognized all throughout the US.
In order to qualify for a renewal program, the certificate a student carries needs to be valid or nearing expiration (not expired).
CPR Training
There are 9 total programs offered by providers throughout the program. The two main program categories are BLS (Basic Life Support) and Advanced Life Support (ALS). BLS is mainly taught to the general public and teaches 1 and 2 person rescues while ALS is taught exclusively to healthcare providers  and professionals (HCPs).
Basic Life Support 
CPR and AED (general public) – 4 hours
CPR and AED (HCPs, healthcare students) – 4 hours

CPR and first aid (general public) – 4 hours
BLS for HCPs + renewal program – 4.5 hours + 4 hours
Advanced Life Support
ACLS + renewal program – 16 hours + 5-6 hours
PALS + renewal program – 14 hours + 6-8 hours
Providers
CPR training providers can be found in 4 states throughout the US.
California
Los Angeles CPR, CA
San Francisco CPR, CA
Hawaii
Nevada
Washington
Portland CPR, WA
Seattle CPR, WA
All of these providers offer the same quality training throughout the country. All programs follow only the latest updates from the AHA and the latest BLS and ALS guidelines they release. Students don't have to be concerned over the quality of the training they receive from any of these providers. If you have any queries regarding the programs or enrolment, the staff will be eager to help you.
Find a certification program you need from the list and give any of our providers a call to get you started!