Fact Checked
Overview
Many individuals are prepared for almost anything in life while others simply manage troubles as they arise. Reading common first aid literature leads one to believe that first aid requires special utensils and methods. In reality, common sense is the most useful first aid tool that people should make due with. Basic first aid can in many cases be administered by using simple tools located around one's home.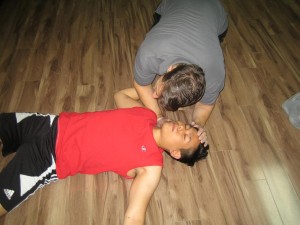 Clean Routines to Wash Hands
Clean hands are an important first step in the first aid strategy. Although one may use rubber or silicone gloves for first aid procedures, it is still essential that people always wash their hands well before any first aid therapy. Hands that are not clean can ultimately infect the wounds of others who are receiving first aid.
Put a Halt to Bleeding with Clean Fabrics
There is no need to scramble for medical dressings and bandages to clean and cover wounds. One can simply use clean towels and rags as a way to stop bleeding. Apply some pressure on the wound and once bleeding has ceased, one can leave the wound uncovered or concealed with another clean piece of cloth.
Cardboard Box as a Useful First Aid Tool
Cardboard materials are relatively durable and strong once molded and used accordingly. Splints from cardboard can be made easily from any available box or package. In particular, boxes that are used to store paper files can be used especially well for first aid purposes. This item can be located in almost any workplace, especially office settings.
Soft Cushions to Protect the Foot
Injured feet and ankles can be secured by using pillows as well as tape to help protect from bumps. Pillows are wrapped around injured feet and then taped securely with duct tape, which works very well.
Consult with Paramedics
First Aid comes in two forms–minor injuries that can be handled by a person and more life-threatening wounds that require help from medical professionals. The best firs aid tool that one can have is simply a mobile telephone or land line. One must, however, be prepared to answer many questions posed by emergency health professionals. People should be aware of the expectations that they will confront when making an emergency telephone call.
Administer CPR
CPR is the most basic urgent first aid response that people can provide to those in need. The recommended procedures involve emergency breathing strategies as a component of CPR. It is widely accepted that for cardiac arrest, applying pressure on the chest is a sufficient strategy to help revive those in need. Traditional mouth to mouth breathing routines are unnecessary for adults, but more useful and necessary for children. Finally, traditional CPR masks are unnecessary as well.
Related Video On CPR