Fact Checked
Overview
Sleep Apnoea is a condition that occurs when the upper airway is blocked by the walls of your throat muscles while you are sleep. That causes breathing to stop for a few seconds, sometimes as long as a minute. The brain then detects that there has been a drop in oxygen intake and send a small wake-up signal. Then you are able to wake up slightly, gasp for air and go back to sleep almost immediately.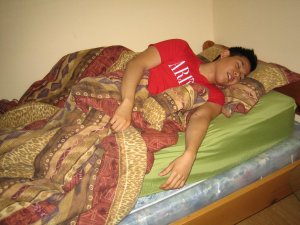 What is interesting is that if you're suffering from Sleep Apnoea. You will not realize that you're even waking up. The end result is a sleep pattern that is fragmented as you have to waking up every few minutes to gasp for air. You wake up the next day feeling tired and exhausted, almost like you did not sleep at all. You end up feeling sleepy the rest of the day, your performance at work degrades and you generally keep losing concentration of what you are doing.
The following are the symptoms of Sleep Apnoea
Tiredness, fatigue, and daytime sleepiness
Mood changes and irritability
Poor concentration
A reduced sex drive and sometimes impotence
The need to frequent the washroom throat the night

The following are the causes of Sleep Apnoea

Taking alcohol especially in the evening which relaxes the muscles causing them not to respond well to the brain's signals meant to control and monitor breathing.
Sicknesses and illnesses such as goiter, reduced thyroid production
Tonsil can also be the cause, the effects are more pronounced in children.
Sleep Apnoea can also be cause by sedatives and any sleeping medication
Obstruction and congestion of the nasal cavity can cause Sleep apnoea
The size of the facial muscles and bone shape such as the undershot jaw can cause Sleep apnoea
Sleep Apnoea Treatment options
The best treatment options include losing overall weight and cutting down on alcohol intake. Alcohol intake especially a few hours before going to sleep should be avoided. If you are taking medication that is contributing to low production of thyroid hormone, the doctor will have to correct it as well. If you have large tonsils, they will have to be removed surgically to reduce their effect on your breathing while you are asleep.
Another easy procedure is the use of mouth guard or a mandibular splint. They can control and regulate moderate or mild Sleep Apnoea. They work by holding the jaw forward while you are asleep.
When other forms of therapies have failed, one treatment that may work is the surgery to the base of the tongue and palate. These surgeries must be undertaken by a qualified nose, ear, and throat surgeon, also known as an otolaryngologist. They take interest and have sleep-related surgery training.
Things to keep in mind
Sleep Apnoea is caused by the blocking of the upper air passage by the throat walls while you are asleep. These muscles are the ones close to the voice box.
The Sleep Apnoea condition is experienced by about one out of four men. It is therefore as common as asthma.
The best treatment is the cutting down on alcohol and weight loss. These do not need any surgeries and should be the first to be used.
Other forms of treatment include mouth guard, nasal CPAP, and surgical correction of the upper airway passage that is close to the voice box.
The best way to distinguish simple snoring from Sleep Apnoea is the daytime sleepiness.
Related Video On Sleep Apnoea