All first aid and stand-alone CPR certification courses include training in the use of automated external defibrillators (AED). AED's drastically increase the chances of survival for victims in cardiac arrest. AED have become more popular and can be found in new locations every year including community centers, grocery stores, drug stores, sporting events and in almost any place where people gather. Using a AED is incredibly straight-forward and makes CPR easier for most rescuers. Not all certification cards display training and certification in the use of AED's. St Mark James displays candidates knowledge and training in the use of AED's on the certification award. Some providers offer AED specific courses that are typically catered to people working in the aquatics industry (Life-guards). For more information or to register for a first aid or CPR course that includes AED certification visit our locations page.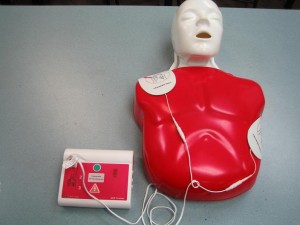 Courses that Include AED Certification Training:
The following courses include AED training:
Standard First Aid
Standard Child Care First Aid
Emergency First Aid
Emergency Child Care First Aid
Stand-alone CPR level "A"
Stand-alone CPR level "C"
Stand-alone CPR level "C" for health care providers (CPR "HCP")
The Lifesaving Society of Canada has AED specific courses that teach candidates only how to use AED's.
Theses courses are AED Certification only:
AED Responder
AED Provider
Course Components involving the use of AED's:
Candidates registered in the previously named courses will learn:
How to apply AED's.
When not to apply AED's.
Safety hazards when using AED's.
Different prompts the AED can display.
Proper pad placement and improper placement.
AED use on a adult, child and infant.
Common myths about AED's.
Complications when using a AED.
AED training has become standard with almost all first aid and CPR courses provided through the major providers. However, it is recommended to take St Mark James training as they provide certification that displays the knowledge and training in the use of AED's even though all courses provide the same training. CPR coupled with AED training can drastically improve the chances of survival for a victim (read about it here). Learn the skills to save the life of a loved one, co-worker, stranger or friend. Register for a AED certification course today!