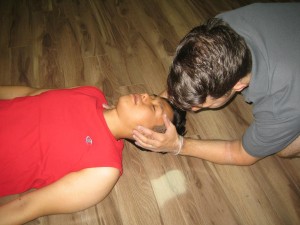 People looking for first aid certification in Lethbridge, Alberta have to look no further than Lethbridge First Aid! Offering first aid certification and CPR/AED training at the cheapest possible rates but maintaining quality training, Lethbridge First Aid is the most popular training provider in Alberta. You can enrol in a number of Alberta OH&S approved courses including standard and emergency first aid. Workplace safety courses such as WHMIS, TDG and MSDS are also available. Some courses are also available in on-line training. Certification is valid for 3 years throughout Canada. To register for a course use the contact information provided below.
About Lethbridge First Aid
Cheap course rates
Lethbridge First Aid offers the most competitive rates for all classes. Rates are paid once – during enrolment. Students don't have to worry about additional expenses during the training period. Full course fees include taxes, certification fees, and St Mark James training manuals.
Students who do not finish the program are entitled to a full refund of the enrolment fee, provided a 72-hour notice was given beforehand.
Variety of training programs
First Aid training programs are focused on the EMS (emergency medical services) system, different injuries such as wounds, concussions, and airway problems. Cardiopulmonary resuscitation (CPR) and automated external defibrillation (AED) training are also included in first aid training programs. CPR classes have three levels (A, C, and HCP), each level corresponding to CPR rescues for victims of varying age groups (or all).
Students can choose from three different CPR/AED levels: A, C, and HCP. These levels run for four, five, and six hours respectively. Different age groups and target student groups (first timers, health care workers) are focused on at different levels.
First Aid Courses
The most popular first aid courses available in Alberta are emergency and standard first aid. Emergency first aid is a one day course that includes CPR level "A", "C" or "HCP" training. First aid training in this course includes recognition and management of wounds, broken bones and circulatory and breathing emergencies. Standard first aid is a two day course that incorporates all of emergency first aid but provides additional training in sudden and environmental emergencies. Common CPR level's partnered with standard first aid are level's "C" and "HCP".
Certification and renewal (re-certs)
To pass the program, the student needs to have complete attendance, at least 75 percent on the written exam, and good skill return demonstration. Upon completion of the course, the students receive a certificate card from the Canadian St Mark James. Wall-mount sized certificates are also available upon request.
The certificates are only valid for three years and can be renewed through recertification programs held twice weekly. Canadian St Mark James Standard first aid training recertification also includes CPR level C recertification and lasts 8 hours.
Extra classes
If the student doesn't want to enrol in the full training course, stand-alone CPR and stand-alone first aid classes are also available. All CPR classes include AED training. AEDs are machines that are attached to the chest and apply needed shock to the heart.
Studnets can also book private instructors for home training or special training for a company event like a conference.
Did You Know?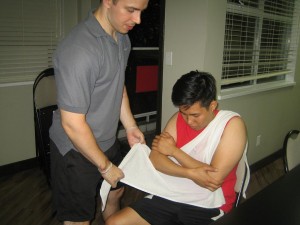 Immediate first aid for fractures
 DO NOT move the victim.
Immobilize/stabilize the area.
Stop bleeding (if any) with a sterile bandage, clean cloth, or a clean piece of clothing.
Apply ice packs/cold packs to the area to help relieve pain and swelling.
Treat for shock with a blanket and fluids.