Over the past several years, there has been a influx of people taking CPR certification classes in LA. Not only are trainees healthcare providers, they are people who work desk jobs or other similar work that doesn't involve healthcare. Most companies now require future employees or potential hires to have basic CPR and first aid training. Because of this, First Aid Certification in Los Angeles CPR has been offering more and more classes each year at various schedules.
Students who are interested in training at Los Angeles CPR can sign up in person at the main training facility or on the provider homepage. More details on class schedules and rates can be found there.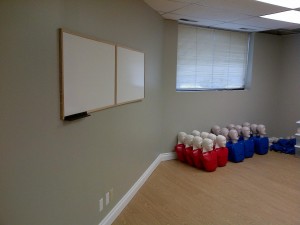 Getting CPR training with First Aid Certification in Los Angeles
Other providers cannot compare with the selection of programs available throughout the week. There are three main programs students can choose from: BLS, ACLS, or PALS. These programs vary in length and appropriate target audience, as well as mandatory certification.
Basic Life Support
The concept of Basic Life Support can be seen in three of Los Angeles CPRs programs. Basic Life Support (from the American Heart Association, latest version released in 2010) sets the guidelines rescuers need to follow when managing a victim of a cardiopulmonary emergency. The BLS guidelines set a chain-of-survival that rescuers follow and oversee while providing care.
The three programs under BLS are (1) Heartsaver CPR and AED [for the general public], (2) Heartsaver CPR and AED C [for healthcare providers and students], and (3) BLS for healthcare providers. The first two programs basically teach the same curriculum, the first with optional certification and the second with mandatory certification. The last program teaches both 1 person and 2 person rescue (as opposed to just 1 person rescue), tailored towards HCPs.
Heartsaver CPR and AED is 4 hours long.
Heartsaver CPR and AED (C) and BLS for healthcare providers is 4.5 hours long.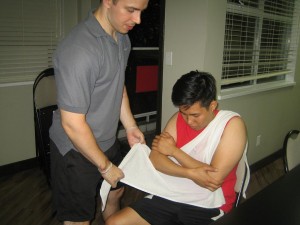 ACLS and PALS
Advanced Cardiac Life Support (ACLS) and Pediatric Advanced Life Support (PALS) is targeted towards healthcare providers and students studying healthcare. Both teach trainees how to use a team approach when addressing a patient's needs, primarily during a cardiopulmonary emergency. The BLS chain of survival can easily be followed and observed in these two programs, especially post-cardiac arrest care, the last link in the chain.
The main difference between ACLS and PALS is the patient's age. ACLS tackles adult patients while PALS tackles pediatric patients. Pediatric patient's ages range from infants to younger teenagers. However, as a child grows older, the difference in providing CPR gets fewer and fewer.
ACLS is a two-day, 16 hour program. Certification is mandatory through a skills test and a written exam. Students are required to have a valid BLS for healthcare providers certificate to qualify for the program.
PALS is a two-day, 14 hours program. Same certification  requirements as ACLS. 
Renewal programs
Renewal classes are only available for BLS for healthcare provider, ACLS, and PALS. The renewal class course length are as follows respectively: 4 hours, 5-6 hours, and 6-8 hours. For the other programs, students need to retake the entire program to revalidate the certification. Students may only sign up for a renewal program if their exisiting certificate is still valid.