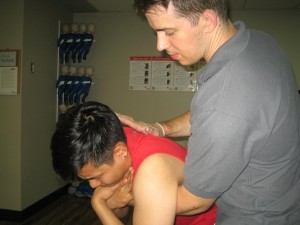 Would you know what to do if a loved one was having a heart attack or stroke? Would you recognize the signs and symptoms? Learn to manage these emergencies and more including spinal injuries, fractures, anaphylaxis, choking, poisonings, seizures and hypoglycemia when you enrol in a workplace approved standard first aid and CPR course with Victoria First Aid. This provider has been offering a wide range of courses including standard, emergency, childcare, advanced and occupational first aid in Victoria since 2004. This provider has great customer satisfaction reviews, experienced teachers, the lowest prices and conveniently located training centres on Vancouver Island. Register for first aid certification in Victoria using the contact information provided below.
Contact Information about First Aid Certification in Victoria
Victoria First Aid can be reached through the contact information below. Queries about enrolment, classes, and schedules, may be directed to Victoria First Aid's very helpful staff.
Website: http://firstaidcprvictoria.ca
Email: info@firstaidservices.ca
Telephone Number: 1-888-870-7002
Customer representatives are available 12 hours a day (from 7 am to 7 pm) to help with any questions registrations or bookings.
Why study first aid?
Emergencies can happen unexpectedly. A nasty cut or a fall can have serious repercussions if dealt with improperly. Infection, loss of consciousness, and other different complications can arise because first aid was not or inadequately done. It has become part of our duty to ourselves and others to be knowledgeable about basic first aid. Quick action during a situation can mean the difference between someone's life and death.
To show you how important first aid is, take a look at the video below.
Affordable Course Rates of First Aid Certification in Victoria
One aspect that makes Victoria First Aid the leading provider of training is the low prices it offers an all workplace, occupational, re-certification and private courses. All prices shown on the website include taxes, certification fees and manuals. No hidden fees or costs.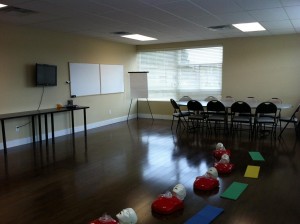 Variety of Courses Available
A number of courses are available for customers to register in. Check out the brief list of courses available:
Standard first aid and CPR
Standard Childcare first-aid
Emergency first aid
Babysitting Training
Marine First Aid
Occupational First Aid level 1
Advanced First Aid
First Responder Training
Basic Life Support
Advanced Cardiac Life Support
Pediatric Advanced Life Support
Food Safe Level 1
Food Safe Level 2
Confined Space Entry
WHMIS
TDG
MSDS
H2S Alive
H2S Awareness
For a head start on your training, you can view the updated CPR and AED guidelines below, as per the latest release by the American Heart Association and the St Mark James.
Canadian St Mark James Certification
All trainees who pass and successful complete any of the programs below receive a Canadian St Mark James certificate for first aid, CPR, and AED training, valid for 3 years. Renewal / re-certification of expiring or near-expiry certificates are offered by Victoria First Aid through refresher courses, given multiple times per week.
Private Classes
Private courses are available for groups, businesses and companies. To inquire about hosting a private course at your facility or the training centre use the contact information provided above.
Did You Know?
Nose Injuries
After treatment of the injury:
Avoid sneezing or coughing, and if you must, open your mouth while doing so
Blow nose gently one at a time
Avoid lifting anything heavier than 10 pounds, straining, or bending
Change cotton ball in the ear as needed, saturating the cotton ball with petroleum jelly
Avoid getting water in injured ear