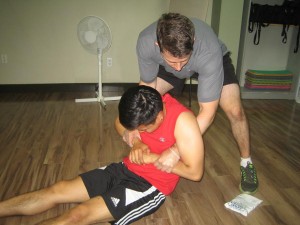 Would you know what to do during a medical emergency? Boost your resume and be prepared for emergencies by enrolling in first aid certification courses with Red Deer First Aid.  Candidates can register for first aid certification in Red Deer as well as refresher courses, private classes, and stand-alone CPR classes. Participants that successfully complete these courses will receive Alberta Occupational Health and Safety (OH&S) approved certification that is valid throughout Canada for 3 years. If you want to enrol, an on-line application form is available below, or via email, telephone call, or walk-ins at the training center. A variety of courses outside of first aid are also available including basic life support (BLS), advanced cardiac life support (ACLS), babysitting training, health care provider CPR, on-line WHMIS, H2S awareness, food safety and many more. Build your resume and get certified in first aid by enrolling in training programs with Red Deer First Aid today.
Red Deer First Aid Contact Details
Red Deer First Aid can be contacted for inquiries regarding classes and enrolment through the information below.
Email: info@firstaidreddeer.ca
Website: www.firstaidreddeer.ca
Telephone: 1-888-870-7002
Complete class schedules are also available on the website, as well as information on private classes, stand-alone CPR classes, and renewal of expiring certificates.
What you need to know about First Aid Certification in Red Deer
Most competitive rates of First Aid Certification in Red Deer
Red Deer First Aid offers an assortment of training courses and programs at the lowest rates. Training course rates are inclusive of taxes, certificates, and St Mark James registration fees. All expenses incurred at itemized clearly, with "no invisible expenses". All manuals and equipment used during the entirety of the training are included in the training course rates. You are assured your money's worth with Red Deer First Aid.
A large assortment of training courses offered
Red Deer First Aid is able to compete with other training service providers in Alberta is because of the number of classes it offers trainees. CPR training courses, stand-alone CPR classes, private classes, and refresher courses are available at Red Deer First Aid.
Standard first aid, CPR and AED
Emergency first aid, CPR and AED
Childcare first aid, CPR and AED
Advanced first aid
CPR for health care providers
CPR level "C"
CPR level "A"
Basic Life Support (BLS)
Advanced Life Support (ACLS and PALS)
Food Safety Courses (Meets Alberta Food Safety requirements)
Workplace Hazardous Material Information System (WHMIS)
Material Safety Data Sheets (MSDS)
Confined Space Entry
Pet First Aid and CPR
Private infant CPR training
Re-certifications
Babysitting Training
CPR and First Aid Courses
CPR training courses "A", "C", and "HCP", can be offered in a stand-alone format or can include basic first aid and AED training. Basic first aid classes cover a wide range of emergency situations, from a simple cut or scrape to a serious burn. Red Deer First Aid ensures that its trainees will be able to act accordingly in whatever emergency they may face. Only the latest information regarding CPR and AED are used in classes. The most recent Basic Life Support (BLS) guidelines are taught to trainees, focusing on the updated techniques and pathways.
Popular topics in the basic first aid class include management of injuries such as broken bones or sprains, which often happen to school age children who are active in sports or roughhousing. The video below is a short demonstration of how to deal with injuries such as broken bones.
Private Classes for First Aid Certification in Red Deer
If you or your business is looking for first aid, workplace safety, food safety or CPR training for a group of almost any size Red Deer First Aid can help organize a course for you. Private programs can be held at the training centre or a trained and certified Alberta OH&S approved instructor can come and teach the course at your facility (if space allows). Use the contact information posted above to inquire about booking a private course. Competitive prices are available for large groups.
Alberta OH&S Approved Certification
All trainees who successfully complete any of these first aid training course will receive a certificate for first aid, CPR, and AED, valid for 3 years and approved by Alberta OH&S. Refresher courses are available for renewal of expiring or near-expiry certificates, with classes offered at least twice a week. The course load of refresher courses is generally lighter than the regular courses.
Did You Know?
Testing for diabetes
The American Diabetes Association (ADA) recommends adults to screen for diabetes type 2 age 45 and above, or 30 years old if overweight or obese, have co-morbodities such as heart disease and hypertension, and lifestyle factors such as unhealthy diet and sedentary lifestyle. Normal results in the first try will require you to take the test every three years. Those with a family history of type 2 diabetes are also recommended to start screening tests at 30 years old.