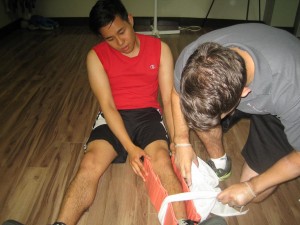 Vancouver First Aid is the foremost service provider of first aid and cardiopulmonary resuscitation (CPR) certification programs in Vancouver. Classes offered at Vancouver First Aid focus on safety and basic first aid during common emergency situations. Training courses for laymen and health care providers are available, alongside stand-alone classes, refresher courses, and private classes. Training courses are certification courses overseen by the St Mark James, with renewals of certification also offered with refresher courses. Trainees get best quality training for the lowest possible cost with Vancouver First Aid. Register for first aid certification in Vancouver with this popular training provider.
[button link="#Reg"]Click Here to Sign Up[/button]
Vancouver First Aid Contact Information
The following contact details are available for inquiries about enrollment, classes, and schedules.
Website: http://vancouverfirstaid.ca
Email: info@vancouverfirstaid.ca
Telephone: 778.709.9180
Address: 1773 Kingsway, Vancouver, British Columbia
This provider has several training locations located throughout the Vancouver Lower Mainland. The main training location, Kingsway, provides ample free parking, easy access to public transit, and plenty of amenities within walking distance, including a Subway restaurant within the building. Check out the map posted below for more location details.

View Larger Map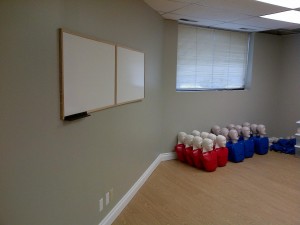 Why You Should Register with Vancouver First Aid
The rates for training courses and classes at Vancouver First Aid are the lowest in the area. No other service provider offers the lowest rates for the good quality of education at Vancouver First Aid.
Vancouver First Aid offers trainees a wide range of courses to choose from. Lessons are given all throughout the weeks at various times.
Training courses use only the latest information on basic first aid, CPR, and AED.
Make no mistake – trainees get the most up-to-date training to make them as competitive as possible in the health care provider market.
Vancouver First Aid boasts well-maintained training centers, with high-end equipment for fist aid, CPR, and AED training.
The team of trainers at Vancouver First Aid are the most friendly, accomodating, and highly competent people you will ever meet.
Training Course Rates
This St Mark James certification provider offers a number of different first aid and CPR programs at the lowest prices. The rates below are inclusive of taxes and certification fees.
Standard first aid, CPR level "C" and AED – 134.99
Standard first aid, CPR level "HCP" and AED – 136.99
Occupational first aid and CPR – 79.99
Standard childcare first aid, CPR level "B" and AED – 134.99
Emergency first aid, CPR level "C" and AED – 84.99
Emergency childcare first aid, CPR level "B" and AED – 79.99
Emergency first aid, CPR level "A" and AED – 79.99
Private classes are offered to groups or companies who wish to have their own particular schedule for training. Trainees who are not able to enroll in regular class schedules may choose to enroll in a private class. For further inquiries on refresher courses for certification renewals or private classes, you may contact Vancouver First Aid via e-mail or telephone.
Certificates
Because all of the training courses are overseen by the St Mark James, successful completion of a course will give trainees a certificate for first aid, CPR, and AED, valid for 3 years. Renewal of these certificates is also offered by Vancouver First Aid, through refresher courses offered at least twice a week.
CPR and AED "Only" Courses
There are 3 levels offered for CPR training courses: "A", "C", and "HCP".
CPR Level "A" offers basic CPR and AED training for adult and child victims
CPR Level "C" offers basic CPR and AED training for adult, child, and infant victims, along with basic first aid
CPR Level "HCP" offers comprehensive CPR and AED training for health-care providers
What Will I Learn in a First Aid Course?
Participants that register for popular two day standard first aid classes with this popular lower Mainland provider will learn about the following topics:
When and how to respond to emergencies
Legal implications of providing first aid and / or CPR
The primary survey
The secondary survey
The recovery position
When and how to contact emergency medical response (EMS)
How to stay safe during an emergency
How to use barrier devices and personal protective equipment
How to recognize and manage breathing emergencies including choking and asthma attacks
How to recognize and mange circulatory emergencies including strokes and heart attacks
How to recognize and manage head, neck, skeletal, bone, muscle and joint injuries
How to recognize and manage sudden medical and environmental emergencies
Vancouver First Aid's basic first aid classes are able to cover a variety of emergency situations, one of which is choking, common in toddlers or infants. The video below shows one of Vancouver First Aid's instructors briefly teaching how to deal with a choking infant.
Did You Know?
IV Fluids
Do you know the content of IV fluids? If you were wondering here's some basic information on IV fluids.
Isotonic fluids
Dextrose 5% in water (D5W) – for fluid loss, dehydration, or hypernatremia (too much sodium)
0.9% sodium chloride (normal saline, NSS, NaCl) – for shock, hyponatremia, blood transfusions (as a side drip), during resuscitation, and diabetic ketoacidosis
Lactated ringers (LR) – for dehydration, burns, diarrhea, acute blood loss due to injury, hypovolemia (low fluid volume in circulation)
Hypotonic fluids
0.45% sodium chloride (half-saline) – for water replacement, diabetic ketoacidosis, vomiting, and diarrhea
Hypertonic fluids
Dextrose 5% in half normal saline – for diabetic ketoacidosis
Dextrose 5% normal saline (D5NSS) – for shock (if plasma expanders such as LR is not available), Addison's crisis (hyperthyroidism crisis)
Dextrose 10% in water – for water replacement, or hypoglycemia