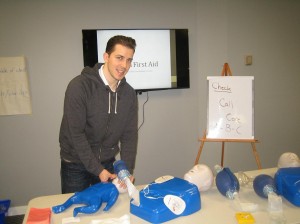 Regina First Aid has become the leading training service provider of Canadian St Mark James first aid certification in Regina. It offers trainees a wide range of classes at various schedules throughout the week. Private classes, certifications, and recertification's are also offered in Regina First Aid's various programs. So if you're looking for the right place to train for basic first aid or any safety class, Regina First Aid is the place for you. It's easily accessible and is dedicated to providing you with the best learning experience possible. Get the best training, build your resume and enhance our career by enrolling in first aid certification courses in Regina, Saskatchewan today.
Regina First Aid Contact Details
You can contact Regina First Aid using the contact information below. Any queries regarding classes, schedules, and enrolment will be answered by Regina First Aid's very helpful staff.
Email: info@firstaidregina.ca
Website: www.firstaidregina.ca
Why You Should Get Trained
First aid is immediate care given to a person during an emergency situation. It can be done by a healthcare provider, if one is available at the time. More often than not, first aid is done by laymen who happen to be in the right place at the right time. Possessing adequate knowledge and skills of basic first aid could save  the lives of people we love, co-workers, or even a random person we just happened to meet. Most of the time, first aid is done by a person because of mere circumstance. It has now become part of our duty to ourselves, our loved ones, and the people around us to be prepared for any untoward incident that may happen.
First aid has become more than just knowing what to do. Being a trained in basic first aid means that you have the skills and attitude, along with the knowledge, in dealing with different situations that are often sudden and very frightening. Regina First Aid can help you build up these skills, with proper instruction and hands-on training.
What does Regina First Aid have?
You get your money's worth.
The rates for training courses at Regina First Aid worth every penny, aside from being the most affordable compared to other providers. For the level of quality that training courses are offered, the rates are a steal. The total fees for a training course includes everything – tuition and taxes, certificate, and manuals, even the registration fees with the Canadian St Mark James.
Regina First Aid assures trainees that there will be no "invisible fees" on their expense list. All costs incurred will be clearly itemized.
Name a class, Regina First Aid has it.
Because of the large volume of applicants, Regina First Aid boasts a large selection of programs students can choose from. There are first aid programs and CPR-only programs, all offered at varying lengths of time to complete. Trainees are able to individualize their training schedule according to what they want to learn.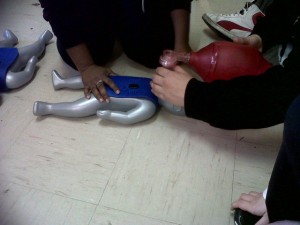 Training courses are offered in 3 levels: "A", "C", and "HCP". CPR Level "A" offers basic CPR and AED training for adult and child victims; CPR Level "C" offers basic CPR and AED training for adult, child, and infant victims, along with basic first aid; and CPR Level "HCP" which offers comprehensive CPR and AED training for health-care providers.
For trainees who do not wish to undergo the complete training course, stand-alone classes are also available for enrolment. Stand-alone classes cover cardiopulmonary resuscitation (CPR) and automated external defibrillation (AED), and other topics such as food safety and fire hazards, among others.
This provider also offers standard first aid programs. They run over a course of 2 days, 18-20 hours in total. The program includes CPR training, as well as basic wound care, splinting, bandaging, and other first aid skills. Students are able to recognize and react to different emergency situations easily.
Scheduling for first aid certification in Regina is a breeze.
Regina First Aid's training courses are offered throughout the week, including weekends, at varying times. However, private classes are offered to trainees who have problems with the regular schedules. These private classes are also available to groups who want private training.
Regina First Aid uses the newest techniques regarding first aid, CPR, and AED.
Regina First Aid's team of highly competent trainers will give lessons based only on the most recent updates on basic first aid. As per the most recent Basic Life Support (BLS) guidelines, all training courses are inclusive of AED training. AEDs have now become commonplace as survival rates of victims increase with CPR and defibrillation within 3-5 minutes after collapse. Regina First Aid ensures that you will have the best training in response to varied emergency situations.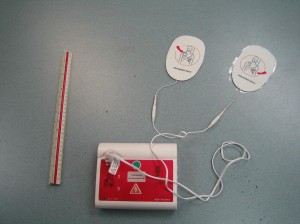 Training centers are spacious and boast high-end equipment.
No other provider has better maintained establishments. Regina First Aid training centers boast spacious classrooms with the latest equipment for first aid, CPR, and AED training. Training centers are easily accessible and very convenient as well. They offer amenities such as free parking, quick access to and by public transportation, and walking distance to nearby restaurants and shops. Regina First Aid places the comfort of its trainees as a priority.
Three Year First Aid Certifications in Regina
Because all first aid, CPR, and AED courses are overseen by the St Mark James, successful completion of a training course or class will give trainees a certificate for first aid, CPR, and AED, valid for 3 years. Renewal of expiring or near-expiry certificates can done through completion of refresher / re-certification courses, offered at least twice a week. Re-cert courses have a much lighter load than regular courses.
Enrolment is quick and easy.
Enrolment can be done in a variety of ways. An on-line application form is available below for quick registration to the training course of your choice. You may also enrol via a telephone call, e-mail, or walk-ins at the training center. Regina First Aid's very welcoming staff will be sure to entertain all your queries regarding classes, schedules, and enrolment.
Did You Know?
Stroke
Common signs and symptoms of a stroke are sudden numbness and/or weakness of the face, arm, leg, especially localized on one side of the body, sudden confusion, trouble speaking or understanding, vision problems with one or both eyes, trouble walking and balancing, dizziness, and severe headache.