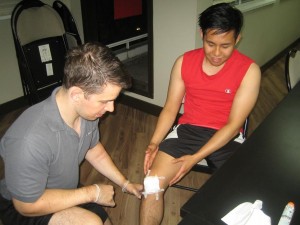 Do you need Ontario WSIB approved first aid and CPR certification? Do you want to learn how to recognize and manage emergencies such as heart attacks, angina and seizures?  Mississauga First Aid is the largest, most popular, lowest priced, highest volume and best reviewed provider in the Mississauga area. Popular classes include food safety, transportation of dangerous goods, babysitting training, standard first aid and emergency first aid.  There is a large selection of classes available with cheap training fees. Participants may also register for stand-alone CPR classes such as CPR for health care providers (CPR HCP) and CPR level "C". All first aid and / or CPR courses include automated external defibrillator training and provide certification that is valid for three years.  If you want to enrol in a first aid certification course in Mississauga, visit the website for more details on classes, rates, and schedules (contact information is provided below).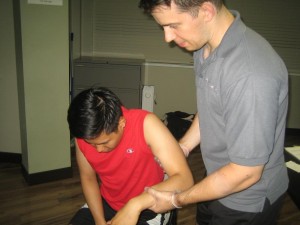 Signing up for a class of First Aid Certification in Mississauga
If you've chosen a program you want to sign up for, just send an e-mail or give a call to start your enrolment. Walk-ins are also highly encouraged by the staff, so all fees and forms can be finished before starting your training. An online sign up form is also available on the Mississauga First Aid website that you can use.
Website: http://firstaidcprmississauga.ca
Telephone Number: 1-888-870-7002
Email: info@firstaidcourses.ca
What Will I Learn in a Standard First Aid Certification Course?
Participants that enrol in Ontario WSIB approved standard first aid certification courses will learn about the following topics:
The primary survey
The secondary survey
When and how to contact EMS
How to stay safe during an emergency
Cardiopulmonary resuscitation (CPR)
How to check vitals
How to check responsiveness
Managing unconscious victims
Choking recognition and management
When and how to use an automated external defibrillator (AED)
How to recognize and manage circulatory and breathing emergencies including heart attacks, asthma, anaphylaxis and shock
How to recognize and manage sudden medical emergencies and environmental emergencies including seizures, poisonings, heat stroke and hypothermia.
Management of wounds including amputations, avulsions, embedded objects and minor cuts and scrapes
Management and recognition of broken bones, fractures, sprains, strains and dislocations
Training In CPR for First Aid Certification in Mississauga
Cardiopulmonary resuscitation (CPR) training is available in three different levels. Trainees have to choose one out of these levels. Level A and C are for first time trainees; A is for adult CPR while C is for adult and pediatric CPR. Level HCP is targeted towards health care providers. The three levels a 4, 5, and 6 hours long respectively.
Students who are enrolled in CPR training courses learn how to perform chest compression's and use automated external defibrillators on a victim of cardiac arrest. The lessons are focused on the latest Basic Life Support guidelines from the American Heart Association.
Special training
Big groups of students can book a private instructor, should they wish. Instructors are usually booked by companies and schools for special events like conferences and seminars. You can inquire about rates and schedules through e-mail or telephone call.
Certificates
Before a student passes a class, he or she is required to have:
Complete attendance
Good demonstration of CPR skills
At least 75 percent on the exam
Once a student passes, he or she is awarded a certificate card valid for three years. The certificate card can be renewed through recertification programs.
Take a sneak peak in Thunder Bay First Aid with the lesson below.
Did You Know?
Eczema
Atopic dermatitis is more commonly known as eczema, a chronic skin condition, usually first appearing in toddlers. Eczema is characterized by flaring up of the skin (inflammation and itchiness) that is self limiting and eventually fades away. It can be caused by allergies or a possible immune system problem. Inflammation usually occurs on the hands and feet, inside of the elbow, back of the knees, ankles, and neck and upper chest. In children, they are often found on the face and neck.