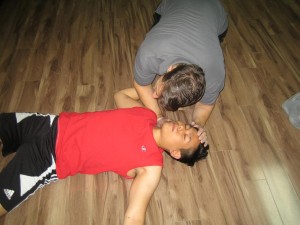 Get your certification in first aid and CPR with the leading provider of training courses in Surrey, B.C. Vancouver First Aid proudly offers training in both Surrey Newton and Surrey Whalley. This training provider is popular due to its low prices, large number of training centres, experienced staff and high volume of courses. Participants may register for popular courses such as occupational first aid level 1, standard first aid, and emergency first aid. First aid certification provided to individuals that complete the courses meet WorkSafe BC requirements and / or federal requirements. Participants may also register for safety courses that cover topics such as fire safety, WHMIS, MSDS, medical terminology, H2S awareness and many more. Popular programs offered at the training centre also include re-certifications and food safe level 1 and level 2 courses. To register for any of the above courses or for inquiries about private programs and other first aid services available use the contact information posted below.
How To Contact This Provider?
To register for a course with this provider or to inquire about services available to you use the following contact information:
Telephone: 1-888-870-7002
Email: info@vancouverfirstaid.ca
Website: http://vancouverfirstaid.ca/about/locations/surrey/
Training Address (Newton): 7238 137th Street Unit #106, Surrey BC. V3W 1A4
Both Surrey training centres are centrally located in Newton and Whalley and provide plenty of amenities including restaurants, free parking and great access to public transit. For more information about the training facility or directions check out the map posted below:

Course Prices of First Aid Certification in Surrey
One of the most popular aspects of this Surrey provider is the prices of the programs. Check out the price list of programs available to participants:
Standard first aid, CPR level "C" and AED – 134.99
Emergency first aid, CPR level "A" and AED – 79.99
Childcare first aid, CPR level "B" and AED – 79.99
Occupational first aid, CPR level A and AED – 79.99
All course prices include tax and certification fees. Participants will also receive a take home manual. Other courses not listed above include babysitting training, first responder classes and basic first aid training.
Available Safety Training
Participants may also register for popular safety courses such as:
Workplace Hazardous Material Information System
Material Safety Data Sheets
Fire Safety
Food Safe Level 1
Food Safe Level 2
H2S Awareness
H2S Alive
Medical Terminology
Transportation of Dangerous Goods (TDG)
To register for any of the above courses use the contact information posted above.
Available CPR Training for First Aid Certification in Surrey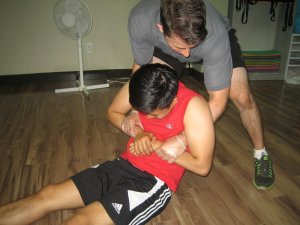 Cardiopulmonary resuscitation (CPR) and automated external defibrillation (AED) training is available in three levels: A, C, and HCP.
Level A – for first time trainees, includes adult CPR and AED
Level C – for first time trainees, includes adult and pediatric CPR and AED
Level HCP – forhealth care providers, includes adult and pediatric CPR and AED
The three levels are available throughout the week, running for 4, 5, and 6 hours long respectively. In CPR training, students are taught how to adequately perform chest compressions and defibrillation on victims of cardiac arrest. The following life support courses are also available in Surrey:
Basic Life Support (BLS)
Advanced Cardiac Life Support (ACLS)
Paediatric Advanced Life Support (PALS)
The students are taught the latest Basic Life Support guidelines from the American Heart Association.
Private training
People can also book instructors for private training at home or in the workplace. Companies and schools often hire instructors for special training for an event or a conferences. Vancouver First Aid's instructors have different rates and schedules. You can give a call or send an e-mail to inquire about them.
Certification
Students need to have complete attendance, at least 75 percent on the written exam, and adequate return demonstration of skills in order to pass a class. After completing and passing a program, the student will be awarded a workplace or academic approved certificate card, valid for three years.
Get certified today!
Did You Know?
Eczema (atopic dematitis)
Eczema is a chronic skin condition typically characterized by inflammed, itchy skin. They usually appear on the insides of the elbows or the back of the knees in adults. In children, eczema can appear on the cheeks and the neck. The rashes usually have periods of flaring, accompanied by hay fever and other allergies. Skin conditions like eczema are usually genetic or are symptomatic of an underlying immune disorder.