In the busy commercial center of San Francisco is First Aid Certification San Francisco CPR, one of the best training centers for CPR in the country. There is a variety of classes offered – including first aid, ACLS, and PALS. The programs differ in course length, target audience, and course content, so visit the San Francisco website for complete details on choosing the program for you.
Why do I need to train with First Aid Certification San Francisco?
In the recent years, workplaces have been requiring existing employees and potential hires to have basic CPR and/or first aid credentials. Having basic first aid and CPR training and first responders on the scene of an emergency dramatically increase a victims chances of survival as well as improving their quality of life. You can help save someone's life by being training as a rescuer.
What programs can I enroll in First Aid Certification San Francisco?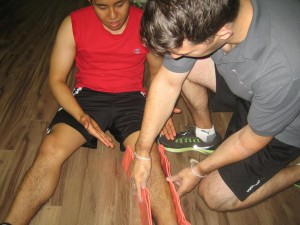 Heartsaver CPR and AED
There are two kinds of heartsaver CPR and AED programs, one for the general public and one for healthcare providers. The program curriculum for both CPR programs are mostly similar, with a focus on 1 person rescues, but the program for HCPs is a mandatory certification program, where students are required to take the exams at the end to get certified. The program for the general public has an optional certification exam once completed. Both programs run between 4 and 4 and half hours long.
Basic Life Support for healthcare providers
This BLS program teaches both 1 person and 2 person rescues. The basics of the BLS guidelines are also taught to trainees, with emphasis on the five links on the chain-of-survival. Targeted towards healthcare providers or students studying healthcare. Students take a skills test and a written exam after the program to become certified. This program is also 4 and a half hours long. Renewal class is 4 hours.
CPR and First Aid
San Francisco First Aid offers a CPR and first aid training program in one course. This program is a 4 hour program that combines Heartsaver CPR and AED for the general public with standard first aid training. Aside from the regular 1 person rescue curriculum, a roster of first aid skills are also taught to trainees. Students are able to bandage and treat wounds, make splints and slings, and other use other skills.
ACLS – Advanced Cardiac Life Support
To qualify for the ACLS program, a trainee needs to have an existing, valid certificate for BLS for healthcare providers and be able to pass the pre-test (skills and written). The ACLS program is a comprehensive program on providing CPR in a clinical set up. Trainees are taught how to respond to cardiac arrest victims in a team, with a trainee acting as the team leader. Pharmacology and learning how to create an intravenous access is one of the major focuses of the program.  This is a 16 hour program that is completed over a course of two days. Renewal classes are 6 hours.
PALS – Pediatric Advanced Life Support
The program curriculum for PALS is the same as ACLS, but emphasizing on pediatric patients. Proving CPR to infants, toddlers, and young children are all included in the program. This is a two-day course, 14 hours long in total. There is an update course available that is 6 hours and 20 minutes long or 8 hours and 20 minutes long (depending on optional stations a trainee chooses).