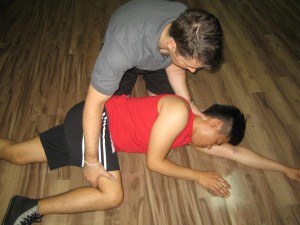 High quality first aid, cardiopulmonary resuscitation (CPR), automated external defibrillation (AED), and other instructional safety are available at Winnipeg First Aid. This St Mark James training service provider has become the front runner in first aid education for more than 4 years within the Winnipeg region because of great classes at the lowest possible rates. Winnipeg First Aid's training centers are equipped with high-end materials for basic first aid training and spacious and comfortable classrooms to ensure the best learning experience for its trainees. Register for first aid certification in Winnipeg today via on-line registration, through this site, via telephone or email.
[button link="#Reg"]Click Here to Sign Up[/button]
Winnipeg First Aid Contact Details 
Winnpeg First Aid can be contacted using the information below. Any queries regarding classes, schedules, and enrolment can be directed to Winnipeg First Aid's very accommodating staff. All telephone calls made during business hours will be entertained.
Website: http://firstaidwinnipeg.ca
Business Phone Number: 204-272-8720
Email: info@firstaidwinnipeg.ca
Main Training Location:  222 Osborne Street in Unit 20, Winnipeg Manitoba
The main training center can be reached using the map below.

View Larger Map
Rates
Winnipeg First Aid offers prospective trainees the cheapest fees for all training courses and re-certification programs. You are guaranteed of no "invisible expenses" as all prices are clearly shown throughout the website. All rates are inclusive of taxes, certificates, and St Mark James registration fees. You surely get your money's worth with Winnipeg First Aid.
Standard First Aid, CPR and AED – 107.99
Emergency First Aid, CPR and AED – 75.00
CPR level "A", "C" or "HCP" and AED – 48.99
Training Courses for First Aid Certification in Winnipeg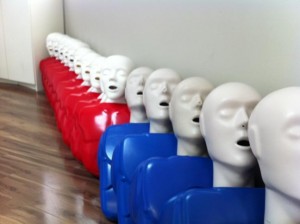 No other training service provider offers more programs throughout the week than Winnipeg First Aid. Trainees can choose from a variety of classes scheduled at different times, including weekends. Should a trainee or a group be unable to enroll in any of the regular classes, private classes are also offered by Winnipeg First Aid. Companies who request for a particular schedule for skill development of their employees are usually enrolled in private classes.
All training courses are overseen by the St Mark James so successful completion of a course will give the trainee a certificate for first aid, CPR, and AED, valid for three years. Re-certification is available as well, upon completion of refresher courses that are given at least twice a week. Winnipeg First Aid also offers its trainees a "no pressure" contract, so if a trainee fails or is unable to complete a course, he or she may choose to take the course again at no additional cost.
Basic First Aid
Classes offered at Winnipeg First Aid are focused on safety and first aid classes, including CPR and AED training. CPR training courses are offered in 4 levels: "A", "B",  "C", and "HCP". All CPR training  CPR Level "A" offers basic CPR and AED training for adult and child victims; CPR Level "C" offers basic CPR and AED training for adult, child, and infant victims, along with basic first aid; and CPR Level "HCP" which offers comprehensive CPR and AED training for health-care providers. CPR level "B" can not be offered in a stand-alone format and can only be paired with childcare first aid. The following video shows updated CPR techniques in providing CPR to infants.
Training Facilities and Staff for First Aid Certification in Winnipeg
Winnipeg First Aid offered numerous training centers throughout Winnipeg but you can be assured at all centers are equipped with the latest materials for basic first aid training. All classrooms are spacious and comfortable, and provide trainees with the best environment for learning. The team of trainers at Winnipeg First Aid are the best in their field and will able to answer any questions you may have about the lessons.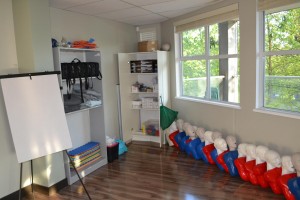 Enrollment
Enroll at Winnipeg First Aid is simple as filling out the on-line application form below or sending an e-mail. If you have additional inquiries about classes and schedules, the staff at Winnipeg First Aid will able to answer telephone calls or attend to your needs during walk-ins.
Get Certified Today!
Register for first aid certification classes with Winnipeg First Aid to receive the best Canadian St Mark James and food safety programs at the lowest rates. To read more or to register for a full or re-certification program browse the Winnipeg First Aid Web site right now!
Did You Know?
Assessing fluid loss

Causes for fluid loss: vomiting, diarrhea, burns, hormone problems, abuse of medications such as diuretics (causes severe fluid loss)

Signs and symptoms: sunken eyes, poor skin turgor (pull skin on chest or arm, if dehydrated, should take more than 1-2 seconds before going back to normal elasticity), loss of weight