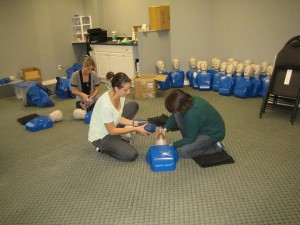 Edmonton First Aid is the largest, lowest priced and most popular provider of first aid certifications in Edmonton that meet Alberta OH&S requirements. Participants that enrol in basic one and two day training courses will learn to recognize and manage emergencies such as heart attacks, stroke, T.I.A's, anaphylaxis, poisonings, seizures, broken bones, deadly bleeding, internal injuries, head injuries, neck injuries, heat stroke, heat exhaustion, hypothermia and many more. Popular one day courses include emergency first aid, CPR level "A", CPR level "C", CPR level "HCP", basic life support (BLS), advanced cardiovascular life support (ACLS), babysitting first aid and many more. Two day courses are also available such as standard first aid and standard childcare first aid. All courses teach participants the latest ILCOR and American Heart Association approved CPR standards and include training in the use of automated external defibrillators (AED). A variety of other programs are available such as on-line safety training and food safety. On-line safety training includes WHMIS, TDG, H2S awareness and fire safety. Registration for safety training, food safety or first aid certification programs can be completed using the registration form below or by using the contact information provided.
[button link="#Reg"]Enrol for Training Here[/button]
Edmonton First Aid Contact Information
Edmonton First Aid can be contacted using the information below. Any queries regarding enrollment, classes, and schedules can be found on the Edmonton First Aid website or by calling their telephone number. Walk-ins at the training center will be entertained by very friendly and accommodating staff, so don't hesitate to ask questions.
Telephone Number: 780-809-0829
Email: info@firstaidcpredmonton.ca
Address: Suite 200 7915 – 104 Street, Edmonton, Alberta,
For more information about the location Edmonton First Aid's training center, refer to the map below.
Reasons to enroll at Edmonton First Aid
The prices are the lowest in Edmonton.
Lots of courses are available at varying dates and times.
The latest American Heart Association and ILCOR standards are taught.
Training facilities are spacious and equipped with the latest training materials for efficient hands-on-training.
Quick and easy enrollment through telephone call, walk-ins, e-mail, or the on-line application form below.
Lowest Training Course Rates of First Aid Certification in Edmonton
The following rates are inclusive of taxes, certificates, and Alberta OH&S registration fees.
Alberta OH&S Emergency First Aid, CPR and AED – 89.99
Alberta OH&S Standard First Aid, CPR and AED – 132.99
ILCOR Approved CPR level "C" and AED – 73.99
CPR level "C" and AED for Health Care Providers (CPR "HCP") – 73.99
Alberta OH&S Standard Childcare First Aid, CPR and AED – 135.00
Alberta OH&S Standard First Aid, CPR and AED Re-Certification – 89.99
ILCOR Approved CPR level "C" and AED Re-Certification – 69.99
ILCOR Approved CPR level "HCP" and AED Re-Certification – 78.99
Course Topics for First Aid Certification in Edmonton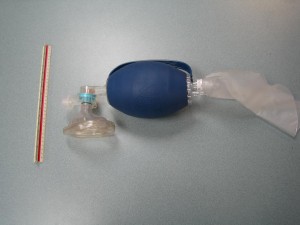 Training courses and stand-alone classes cover a wide range of topics that trainees are able to choose from. Lectures on CPR and AED are based on the latest Basic Life Support (BLS) guidelines released by the American Heart Association and St Mark James. Updated techniques and pathways are included in Edmonton First Aid's CPR and AED classes. This ensures that the trainees will complete the course with the most competitive skills in the health care provider market.
Food safety is also one of the newest classes offered by Edmonton First Aid. This class covers food handling, foodborne diseases, and actions undertaken during food-related emergencies such as vomiting and diarrhea. The video below is a sneak peek into the food safety class offered by Edmonton First Aid.
Certification
All of the first aid training courses are overseen by St Mark James Training and provide successful participants with Alberta OH&S approved certification. Trainees who successfully complete the training course will receive a first aid, CPR, and AED certificate, valid for 3 years.
Re-Certifications
Participants that need standard first aid, CPR level "C" or "HCP" re-certification may attend a renewal course that is shorter and cheaper than the original course. In order to be eligible for a re-certification participants must meet the following prerequisites:
Previous award must be from a credible Canadian Provider.
Previous award must still be current.
If you have any questions or concerns about re-certification eligibility use the contact information above.
Why It's Good To Have First Aid Training
Many times accidents leading to unwanted injuries happen in our daily lives. Many people participate in outdoor activities such as camping or barbecues. If someone gets burnt while lighting a camp fire, he or she would need immediate attention for the burns. The camp attendees may or may not be health care providers, but if one of them had received first aid training, he or she would be able to act immediately to prevent further injury and infection to the victim.
The video below is a short, informational video on dealing with burns, a topic that will be covered in a basic first aid class in Edmonton First Aid.
http://www.youtube.com/watch?v=Ns1DPvXVO6I