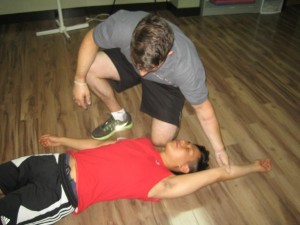 Everyday, countless lives are saved because of first aid and CPR training. The upward trend in emergency situations and catastrophes have made knowledge of first aid a set of skills a person must never be without. Many workplaces require participants to have first aid certification.  Toronto First Aid training courses are focused on safety and basic first aid, inclusive of CPR and AED training. These provide fundamental skills and techniques in the latest first aid and CPR standards as provided by the International Liaison Committee on Resuscitation (ILCOR) and the American Heart Association (AHA). Trainees will become familiar with how to utilize automated external defibrillators (AED), personal protective equipment and the products found in a common first aid kit. This provider does not solely provide first aid and CPR courses. It also provides safety training (public and on-line classes), food handling courses, supplies first aid equipment and attendants for large or small events. Register for first aid certification in Toronto or inquire about the services available to you by using the contact information below or by visiting the website using the link above. 
Contact Information about First Aid Certification in Toronto
For information regarding classes, schedules, and enrolment, Toronto First Aid can be contacted using the information below. An on-line application form is also available in this page.
Email: info@torontofirstaidcpr.ca
Website: www.torontofirstaidcpr.ca
Telephone Number: 1-888-870-7002 (Toll Free)
Representatives are able to help with registration and inquiries from 7 am to 7 pm Monday to Sunday including holidays.
Certification in First Aid and CPR
Toronto First Aid offers a wide selection of different CPR and first aid programs. These courses vary in duration from four hours to eighteen hours. CPR-only classes are available, which include AED training, as a stand-alone class. The training courses offered by Toronto First Aid can be seen listed here:
Standard first aid and CPR
Emergency first aid and CPR
Standard childcare first aid and CPR
CPR level "A", "C" or "HCP"
Basic Life Support
Babysitting Training
Advanced Life Support
On-line WHMIS, MSDS, Fire Safety, TDG and Medical Terminology Training
Food Handling Certification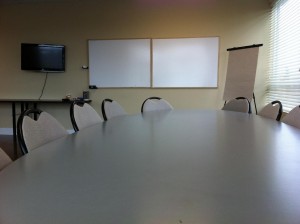 All classes are available at various schedules throughout the month, including weekends.
You can read a testimonial from one of Toronto First Aid's trainees in the following section.
The Importance of First Aid Certification in Toronto
"Let's face it, accidents,  unforeseen situations, and emergencies often happen. No matter how careful one can be, even though how safe an environment one can claim it to be, accidents still happen. What would you do if your toddler accidentally burns herself from the oven handle? What would you do if your sister accidentally cuts herself while cutting a potato? What would you do if you witness your grandfather all of a sudden just fall unconscious? You may immediately call a neighbor or anyone to ask for help. Allowing the situation to remain unattended is costly, especially in situations like profuse bleeding, seizures, or heart attacks. Every second counts. Did you know that without CPR,  his chances of survival decreases by 7-10% every minute? Pretty significant right?  And so from my point of view, as a nurse, and more importantly as a mother and a wife, as a daughter  and a sister, as a friend  and as a member of society, I do believe that each citizen should know, even at least the basic knowledge of first aid. Knowledge and skill in basic first aid, can mean the difference between life and death."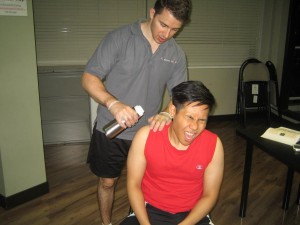 High-end Training Centers
Toronto First Aid is devoted to offering the most comfortable and cutting-end training centers that are found throughout Toronto. Classes are never  cancelled and are held in spacious and comfortable rooms for the best possible learning environment. Private classes are offered to companies or large groups who wish to train separately at a particular schedule, or have problems with the regular schedule.
Did You Know?
Head injuries
Symptoms of possible neurological emergencies after a head injury such as falling down or hitting your head:
Nausea and vomiting
Blurring of vision
Headaches
Difficulty speaking
Numbness, tingling sensation, or weakness
Bladder and bowel dysfunction
Seizures
Personality and level of consciousness changes (sleepiness, tiredness)