The concept of Basic Life Support (BLS) came about from the American Heart Association – the AHA – who wanted to set specific guidelines when providing cardiopulmonary resuscitation (CPR). BLS is the most used guideline by all providers throughout the country who teach some form of CPR training. Basic Life Support not only covers the act of performing CPR, but also the phases before and after it – recognizing an event of cardiac arrest and managing the victim once he becomes stable.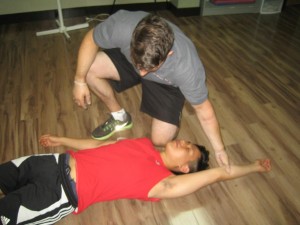 Basic Life Support Training
The BLS training program covers different cardiopulmonary resuscitation topics, with programs changing or intensifying their curriculum based on the target audience – either the general public or people in healthcare, whether they are students or providers.
Heartsaver CPR/AED
There are two kinds of Heartsaver CPR/AED programs: one for the general public and first responders and one for people in healthcare. Both programs typically cover the same topics, such as chest compressions, rescue breaths, using barrier devices, and automated external defibrillator. This program teaches trainees how to respond to different emergency situations – primarily cardiovascular and respiratory emergencies.
The course offered to the general public does not require students to take the skill test at the end of the program. However, if the trainee wants a completion card or certificate for the program, he or she has to take the skills test.
The course offered towards healthcare providers and professionals are certification programs, wherein there is a skills test and a written exam given at the end of training (upon passing, students receive a completion card). Both programs are four hours long.
Basic Life Support for Healthcare Provider
The BLS for healthcare provider program is made especially for healthcare workers and providers, focusing on responding to cardiac emergency situations in a clinical setting – such as a hospital or an outpatient clinic. Other lifesaving skills are also taught in this program, primarily skills to help relieve choking or other similar respiratory emergencies.
In order to quality for this BLS program, students need to pass a pre-test, consisting of a skilsl test and a written exam. Afterwards, another skills test and written exam is administered so the trainees can receive a completion card.
BLS for healthcare provider is a 4 and half hour program, with a renewal class the runs for 4 hours.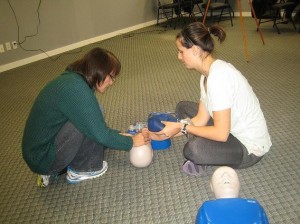 Certification and Renewal
Certificates are also known as completion cards and are awarded to students once they finish a program and complete all necessary requirements. Requirements usually include complete attendance and passing score on all exams (skills, written, or both). All certificates awarded by the provider expire after two years.
Other programs have available renewal classes but others don't. For the BLS program, only the BLS for healthcare providers class has an available renewal class. If you plan on taking one, remember that only students whose certificates are still valid can quality to take the program. If the certificate has expired, you will need to retake the entire program.