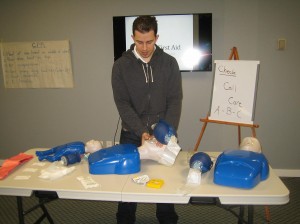 Saskatoon First Aid is the best training provider of first aid certifications in Saskatoon. This provider offers the largest number of workplace, ILCOR and academic approved first aid and CPR programs in Saskatchewan. It offers all of its courses at the lowest prices in well maintained and conveniently located training centers. Registration is incredibly easy as this provider offers participants with a number of different registration methods including on-line, telephone, on-line chat, email or in-person registration. Call center representatives are available 12  hours a day to help answer your questions and to help with any registration. This provider is also popular for offering private courses at the training centre or at your location. Use the registration information posted below to contact this provider.
Saskatoon First Aid Contact Details
The following contact information can be used to contact this Saskatchewan approved provider:
Email: info@firstaidsaskatoon.ca
Website: http://firstaidsaskatoon.ca
Telephone: 1-888-870-7002
But what about first aid is so importance? Watch the video below to get an idea.
http://www.youtube.com/watch?v=8fCC5iSfQ50
About Saskatoon First Aid
Rates
All training courses are offered with the lowest rates in Saskatoon, and are inclusive of taxes, certificates, and St Mark James registration fees. No "invisible fees" are incurred on the trainees account as everything is clearly shown when registering. You get the best quality education at the lowest rates possible.
Available Courses
Saskatoon First Aid offers a variety of classes including food safety, workplace safety, first aid, re-certifications, private courses and pet first aid. Check out more information about these classes below.
CPR Training
CPR and AED training courses come in 3 levels:
CPR Level "A" offers basic CPR and AED training for adult and child victims
CPR Level "C" offers basic CPR and AED training for adult, child, and infant victims, along with basic first aid
CPR Level "HCP" offers comprehensive CPR and AED training for health-care providers
Basic Life Support (BLS) is a four hour course required by health care professionals
Advanced Life Support (ALS) is a 16 hour course designed for individuals that work in intensive care units and for emergency response
Popular First Aid Training
The following is a brief list of some of the popular first aid courses available:
Standard first aid – two day course that includes CPR and AED (re-certifications available)
Emergency first aid – one day course that is commonly referred to as "basic" first aid. Also includes CPR and AED
Childcare first aid – two day course similar to the standard course (re-certifications available).
Other Courses Available
Pet First Aid
Workplace Hazardous Material Information System (WHMIS)
Material Safety Data Sheet (MSDS)
Fire Safety
Food Safety Certification
Confined Space Entry
Advanced First Aid
To register for any of the above mentioned courses use the contact information provided above.
Popular Course Topics for First Aid Certification in Saskatoon
Basic First Aid Certification in Saskatoon
With the myriad of catastrophes happening in our world today, be it natural or man-made, first aid skills have become a necessity in life. Being able to act accordingly in an emergency situation can mean the difference between and death of a loved one or a friend. More often than not, deaths occur because people simply are unaware of what to do. A simple choking hazard could lead to the death of a child or a co-worker because no one knew how to perform a simple abdominal thrust maneuver (video below).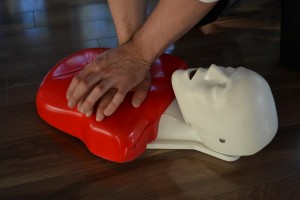 CPR and AED
AEDs are a vital part of performing CPR, that focuses immediate recognition and reaction after a person falls unconscious and is suspected victim of heart attack. AEDs have now become commonplace as survival rates of victims increase with CPR and defibrillation, 3-5 minutes after collapse. Updated BLS guidelines are the cornerstones of CPR and AED training as Saskatoon First Aid.
Schedule
All classes and training courses are available throughout the month, including weekends, at various times. Saskatoon First Aid is dedicated to providing its trainees a flexible schedule to fit in specifically with their needs. If ever a trainee is unable to enroll in any of the regular classes, he or she may choose to enroll in a private class that is held on an individualized schedule.
Facilities for First Aid Certification in Saskatoon
Saskatoon First Aid training centers are very high-end with the latest equipment for first aid, CPR, and AED training. The center itself is very well-maintained and has spacious classrooms. The great ambiance will surely allow for optimum learning by the trainees. The training center's location is also very accessible and convenient. It offers free parking, easy access to and by public transport, and nearby restaurants and shops.
Enrol for First Aid Certification in Saskatoon, Saskatchewan
Enrolment at Saskatoon First Aid is quick and simple. Prospective trainees can sign up using the on-line application form below or via e-mail. Telephone calls and walk-ins will be entertained by Saskatoon First Aid's friendly and accommodating staff. Any queries can be directed towards them and they will surely be able to help you out.
Did You Know?
Bronchial Asthma
Bronchial Asthma
Asthma manifests as spasms of the bronchial airways due to allergies or stress. The irritation of the pathways causes them to become inflammed and edematous, resulting in a narrowed airway. There is increased mucous production as well and effectively causing obstruction.
Symptoms of an asthma attack are wheezing, prolonged expiration or exhalation, difficulty breathing, and persistent cough.