There are different American CPR courses offered by providers all over the country. The basic guideline used by providers is the Basic Life Support (BLS) guidelines released by the American Heart Association (AHA). The AHA is a an American organization that gives out periodic updates on how to perform CPR. Using the BLS and ECC – Emergency Cardiovascular Care (ECC) – guidelines, trainees receive high quality CPR training throughout the US.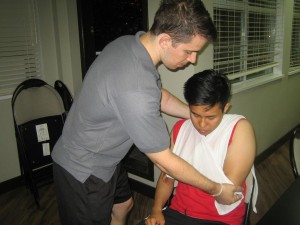 What is the ECC?
The ECC or Emergency Cardiovascular Care concept was created by the AHA with one mission: to help save the lives of victims of cardiac arrest. This concept aims to reduce the percentage of disability and mortality due to cardiovascular emergencies and complications from heart attacks, strokes, and even arrhythmias. By continually improving the BLS chain-of-survival, the mission of the ECC is slowly being realized in every CPR training program.
The CPR courses
There are two main CPR courses available operating under the concept of ECC and BLS. They different in terms of target audience: the general public versus healthcare students and healthcare providers. Both programs teach the basics of providing CPR but vary the lessons a little bit as the trainees change.
Heartsaver CPR and AED for the general public is a 1-day, 4-hour program that teaches students basic first aid and CPR skills for different emergencies. This program gives trainees the option of taking a skills test afterwards in order to receive a CPR credential.
Heartsaver CPR and AED (C) for healthcare providers offers a more in depth discussion than the first CPR and AED program, primarily because of the different target audience. Trainees under this program learn how to perform 1-rescuer CPR and how to manage choking emergencies (among a number of situations). This is also a 1-day, 4 hour long program. Unlike the other Heartsaver program, this is a certification course that has a skills test and written exam afterwards.
Heartsaver CPR AED and First Aid is targeted towards the general public as well, that teaches both basic CPR and first aid skills. The program also runs for four hours and doesn't have a renewal class available.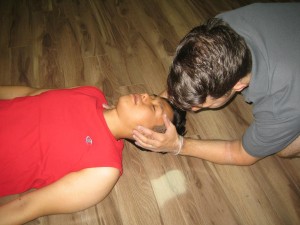 The Chain-of-Survival with American CPR Courses
The chain-of-survival is one the most basic concepts taught in CPR programs. As part of the Basic Life Support (BLS) guidelines, the chain is composed of 5 important steps (usually seen and monitored in full in a clinical setting):
Recognition of cardiac arrest
Immediately starting CPR
Defibrillation (with an automated external defibrillator or AED)
ALS – Advanced life support (Pharmacology during a code)
Post-cardiac arrest care
All these steps are necessary in order to effectively reduce the effect of cardiac arrest on the quality of life of the victim, and to improve his chances of survival and prevent any complications.
Certificates
Completion cards or certificates are awarded to students upon completing a program. The certificates are only valid for two years before expiration can be renewed through a renewal class. However, the CPR classes currently do not have an available renewal class. Students who want to keep their certificates valid have to retake the entire program.