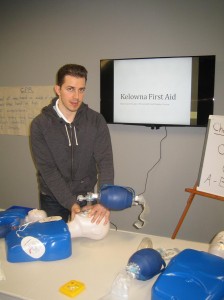 Kelowna First Aid is the most popular, lowest priced and leading provider of first aid certification lessons within Kelowna. Learn to manage various emergencies and injuries such as open fractures, embedded objects, wounds, stroke, heart attacks, hypoglycaemia, hypothermia, heat exhaustion, seizures, poisonings, obstructed airways, head injuries, sprains, strains and many more by registering for a hands-on course today. Popular courses include standard, occupational, babysitting, childcare and emergency first aid. Participants may also register for stand-alone CPR certification courses such as CPR level "C" which teaches participants CPR and choking rescue techniques for victims of all ages. This provider also offers on-line safety training, food safe level 1, first aid supply sales, first aid attendant rentals and many other services. To contact this provider about its services, on-line training, CPR classes or first aid certification courses in Kelowna use the contact information posted below.
Kelowna First Aid Contact Details
Kelowna First Aid may be reached through the following contact details for inquiries regarding enrolment, classes, and schedules.
Email Contact: info@firstaidkelowna.ca
Registration Website: http://firstaidkelowna.ca
Telephone Number: 1-888-870-7002
Address: 301 – 1634 Harvey Ave, Kelowna, B.C. V1Y 6G2
Map of Training Centre in Kelowna:

What can Kelowna First Aid offer you?
Low rates for high quality education
Kelowna First Aid offers you the cheapest rates for training in the Kelowna area. All rates are inclusive of taxes, certificates, and St Mark James registration fees. Trainees are assured of no "invisible fees" as every expense incurred is itemized clearly. You can't find another training service provider in Kelowna that will offer you better rates for high quality training. Check out the following prices of popular courses available with this popular Okanagan provider:
Standard first aid with CPR level "C" or "HCP" – 144.99
Emergency first aid with CPR level "A", "C" or "HCP" – 84.99
Childcare first aid with CPR level "B" – 89.99
CPR level "C" or "HCP" (No first aid) – 64.99
Private course prices vary depending on class size and location.
Large selection of classes
Topics covered by Kelowna First Aid classes cover issues focusing on safety and basic first aid. The most popular courses being the CPR training courses, which are inclusive of AED training. Other classes offered by Kelowna First Aid are food safety, fire hazard, and pet first aid, to name a few. These safety and basic first aid classes are focused on common emergencies experienced typically at home or at work. Classes focus on knowledge, skill, and attitude building to ensure quick and correct action during any situation.
One of the most requested topics to cover is bandaging, which can be seen in the following picture.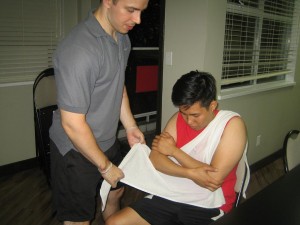 Easy scheduling
Training courses are available throughout the month, at varying schedules. Classes are even offered on weekends for students and trainees who have work on the weekdays. If a trainee is unable to enroll in a regular class, private classes are also offered, but with different rates. Groups or companies who wish to train at a separate or individualized schedule may also enroll in a private class.
Latest CPR and AED training
Kelowna First Aid classes on CPR and AED training are based on the latest Basic Life Support (BLS) guidelines by the American Heart Association and St Mark James. Updated techniques on CPR and AED use are included in the updated pathway, and knowledge of this can mean the difference between life and death of a victim. Chest compressions are immediately done following an activated emergency system once a person is recognized to have experienced cardiac arrest.
Facilities and Staff
Training centers of Kelowna First Aid are equipped with high-end materials used for basic first aid, CPR, and AED training. Simulation or hands-on exercises of CPR and AED are done on the latest CPR mannequins. Classrooms are spacious and well ventilated, to provide maximum comfort during the learning process. The team of trainers who handle classes are highly competent and are the best in their given fields. Don't hesitate to ask questions during the lectures if something is not clear; the staff is very accommodating.
St Mark James Certification
All first aid training courses are overseen by the Canadian St Mark James. Trainees who successfully complete a training course are awarded a certificate for first aid, CPR, and AED, valid for 3 years. Renewal of these certificates may be done through refresher courses offered at least twice a week at Kelowna First Aid.
Head to Kelowna First Aid to get the best first aid and cardiopulmonary resuscitation training attainable. Earn your first aid and CPR certification through Kelowna First Aid! Enrollment may be done through the on-line application form below, e-mail, telephone call, or walk-ins at the training center.
Did You Know?
Water-sealed Drainage
Victims of chest injuries may or may not need a chest tube installed to drain air, blood, or fluid from the lung. There are different kinds of water-sealed drainage systems.
One-bottle – has a single receptacle for the drainage and also serves as a water seal

Two-bottle – has two bottles connected by another tube, one bottle serves as a water seal, and the other bottle leading from the chest is the drainage bottle

Three-bottle – one bottle serves as a water seal, one serves as a drainage bottle, and one serves as a suction control bottle (for injuries that require suction pressure to evacuate all the air or fluid)
The water seal bottle should not have an bubbles, only the fluid fluctuating up and down the tube

If there is a leak, clamp the tube starting from the portion near the bottle, going up until the leak stops

If the tube is pulled out of the chest, cover the area with a piece of salinized gauze