When there are a lot of training providers in an area, finding the right one can be a bit difficult. The most common factors trainees need to consider are quality and cost. Some providers offer great quality training but have very expensive training rates. Other providers offer cheap rates but the quality of training is not up to par. However, with First Aid Certification in Honolulu CPR trainees get the best of both worlds – high quality training programs for very affordable rates.
There are more details (primarily scheduling and contact details) on the Honolulu CPR website.
First Aid Certification in Honolulu
Honolulu CPR offers a large variety of CPR training programs. Programs vary depending on the target audience and course content.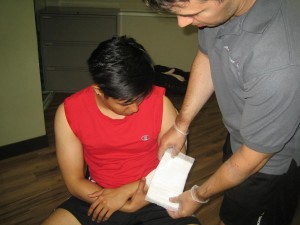 Basic Life Support with First Aid Certification in Honolulu
There are three BLS programs at this provider. The first is Heartsaver CPR and AED, targeted towards the general public. Because this program made primarily for laymen (not working or studying in healthcare), it is only an optional certification program. Students can choose not to take the skills test at the end of the program to become certified. Basic CPR skills for a single person rescue are taught to trainees, focusing on providing adequate chest compressions and rescue breaths – 4 hours
The second program – Heartsaver CPR and AED (C) – teaches the same topics as the first but goes a little in depth on the BLS chain-of-survival because the program is tailored for healthcare students and providers. This program is a mandatory certification program, with a skills test and written exam given at the end of the program – 4.5 hours
The last program under the BLS header is a BLS for healthcare provider program. This is also a mandatory certification program, focusing on the Basic Life Support guidelines from the American Heart Association and 2 person rescue of a victim of cardiac arrest – 4.5 hours, renewal class – 4 hours
First Aid
CPR and first aid training is also offered at Honolulu First Aid. This program is tailored for the general public as well, adding basic first aid training to the Heartsaver CPR and AED program. The first aid training program teaches students how to handle situations such as choking, bleeding, fractures, and other similar emergencies. The basics of medication administration are also included in a first aid training curriculum.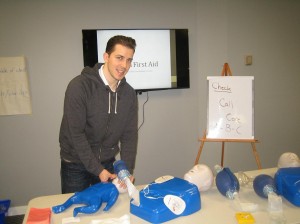 ACLS and PALS
ACLS (Advanced Cardiac Life Support) and PALS (Pediatric Advanced Life Support) are mandatory certification programs that are targeted towards healthcare providers (as well as healthcare students). This program is different from the other training programs, having a curriculum that focuses on providing CPR using a team-approach and in a clinical setting. Students are trained to use a crash cart, variations in airway management, creating intravenous access, and pharmacology during a code and during post-cardiac arrest care.
ACLS runs over a two-day program, amounting to approximately 16 hours of class hours. Renewal classes are 5 to 6.5 hours. PALS also runs over a two-day program, with 14 hours total class hours. Renewal programs are 6 to 8 hours long.